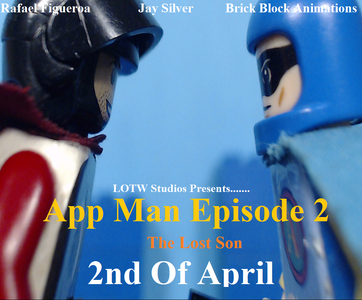 Tomorrow, the second episode of App Man is going to be released to YouTube. So, what are we to expect to see in Episode 2?
Creator, William Osborne says that the second installment is going to be bigger and better than the previous episode.
"I am really excited about releasing this" He told us, "Now that you know the character, you know his origin story and so on, this episode is straight into the action."
'The Lost Son' explains the origins of the Glitchers. It also introduces us to Adam's long lost brother, Andrew.
April the 1st marks the anniversary of William Osborne's first ever musical video - 'Top Hat: A Tribute to Fred Astaire in Lego'. To mark the occasion, Lego Fred Astaire has a cameo at some point in the episode. He told us that he doesn't want to say when in the film he makes the appearance, but hints that he is seen through a window with a mug in his hand.